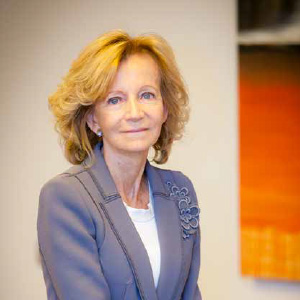 Elena Salgado Méndez
Member of the Board of Directors of Nueva Pescanova SL and Member of the Corporate Responsibility and Governance Committee
---
Elena Salgado holds a Degree in Industrial Engineering from the Universidad Politécnica de Madrid with a major in Energy, a Degree in Economic and Business Studies from the Universidad Complutense de Madrid and an MBA from the EOI School for Industrial Organization.
She has had a long professional and political career. She started her professional career in the Department of Economics and Finance of the School for Industrial Organization and subsequently held several positions in the Public Administration, being the Head of the Studies Department of the Institute of Small and Medium-Sized Companies of the Ministry of Industry, Director General of Personnel Costs and Public Pensions of the Ministry of Economy and Finance and State Secretary for Communications.
She was Minister of Health and Consumer Affairs (2004-2007), Minister of Public Administrations (2007-2009) and Vice-President of the Spanish Government and Minister of Economy and Finance (2009-2011). She was the Congress Representative for Cantabria.
As for her business career, Elena Salgado was the President of Hispasat and Retevisión and a member of the Board of Directors of several state-owned companies such as Telefónica, HUNOSA and Compañía Trasmediterránea.
She was the director of Lenzi Consulting, member of the Board of Directors of Albertis Telecom and Chilectra, President of Telegate Spain and CEO of Vallehermoso Telecom. She is currently a member of the Board of Directors of Doppel Farmaceutici, Member of the International Advisory Board of Abertis S.A. and the Advisory Board of Triatlantic Capital Partners, as well as Senior Advisor in the law firm Maio Legal.
In February 2016 she joined the Board of Directors of Nueva Pescanova SL and she is currently a member of its Corporate Responsibility and Governance Committee.
She is the President of the Spanish Association of Consulting Firms.