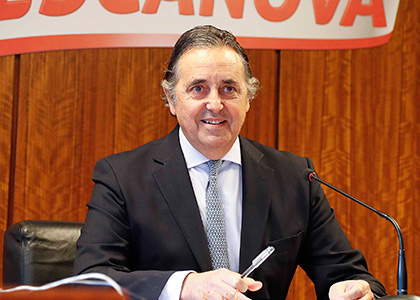 Jacobo González-Robatto Fernández
Chair of the Board of Directors of Nueva Pescanova SL
---
Jacobo González-Robatto holds a Degree in Law and Business Administration from ICADE and an MBA from IESE.
He spent most of his professional career in the Barclays Group, where he worked for 25 years in its investment banking and commercial banking departments all around Europe.
From 2000 to 2007 he was the CEO of Barclays Spain and its Regional Manager for Southern Europe. He subsequently became the President of the Cortefiel Group, after said group was purchased by a consortium made up of CVC, PAI and Permira.
From 2009 to 2013 he was the Chief Financial Officer of Banco Popular Español and, from 2014 to the change of shareholders, he chaired the Monitoring Committee for Collective Agreements of Pescanova.
Jacobo González-Robatto has chaired the Board of Directors of Nueva Pescanova SL since February 2016.
He was a member of the Boards of Directors of the companies belonging to the Barclays Group in Europe, of the First Caribbean Bank, MoraBank, Allianz-Popular, Targobank, Total Bank-Florida, the Bx+ Group in Mexico and the Board of Alumni of the IESE Business School.