Transparency in Sustainability Programme
With the Transparency in Sustainability Programme, we demonstrate our constant commitment to transparency in communicating the performance of the Nueva Pescanova Group companies, in all their operations and geographies, as well as their associated value chains.
We want to share the evidence of sustainability of the characteristic processes of our activity, in particular for sustainable sourcing, responsible operations, labour responsibility and the contribution to the sustainable development of our partner communities, in a clear way, also complying with the principle of ethical action, integrity and regulatory compliance.
Specifically, we refer to the periodic report of results and performance indicators of the environmental sustainability of our fishing, aquaculture, and industrial activities, although the communication of responsible and transparent operations may also touch cross-cutting labour and social issues.
Sustainability Goals
Download the 2022 Progress Report on Sustainability Goals HERE
To revisit previous reports: download the 2021 report HERE
With this information we intend to communicate to all our stakeholders the progress made in meeting the sustainability objectives set by the Executive Committee of Nueva Pescanova S.L. in May 2021. These objectives are closely linked to the sustainability principles defined in our Corporate Sustainability Policy.
Specifically, we want the communication on the progress towards our sustainability objectives to be transparent, public, and responsible. It will also meet our commitment to accountability assumed in several corporate and sectoral policies that we have developed for the business areas and topics reported here. Finally, we look forward to providing our stakeholders with relevant information to their decision-making processes.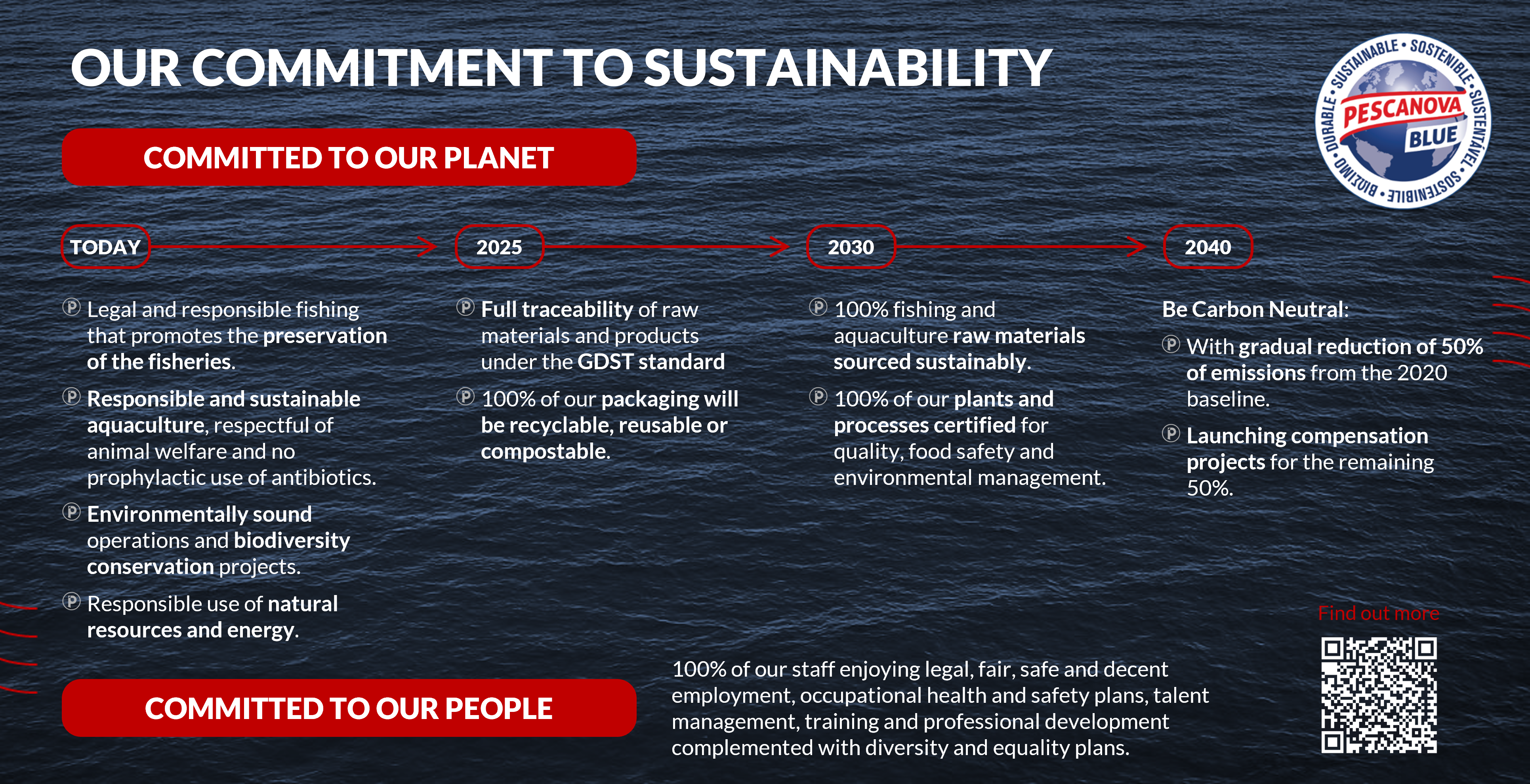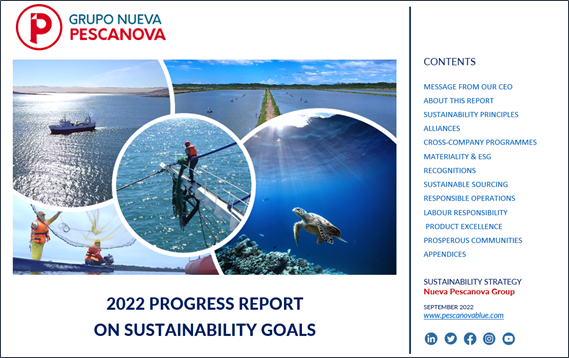 Information on Environmental Impacts
Aligned with our commitment to transparency and accountability to stakeholders, we evaluate and communicate in the report on Disclosure of Environmental Impacts of the Nueva Pescanova Group, the potential impacts that our operations may generate on nature, including biodiversity, and our dependency on ecosystem services, or nature's contributions to people, both within our own operations and across our value chain.
Environmental impacts refer to changes in the state of the 'environmental system', or its physical, chemical, or biological condition, which affect human well-being and the functioning of anthropogenic systems. The impact can be ecological, socioeconomic or a combination of both and can represent the loss of ecosystem services and be measured in terms of damage to the environment, human health, or the economy.